Thursday, 10th December 2020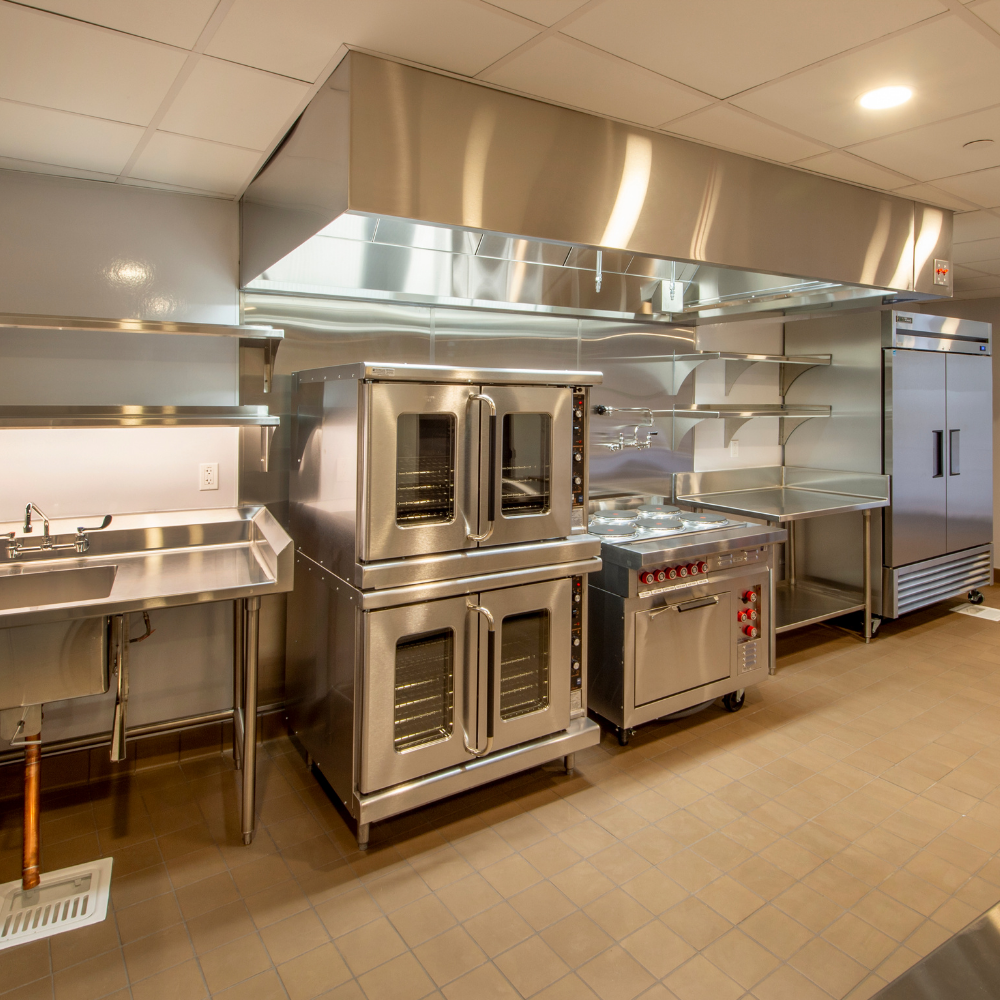 Setting up a commercial kitchen, whether at a standalone restaurant, as a catering company or within a corporate or hotel environment takes a lot of planning, consideration of movement and space, and an understanding of what food will be prepared and at what scale.
Core considerations within these broader categories include knowing how much space you've got to work with, and what you need to fit into that space including food preparation areas, fridges and freezers, cooking equipment such as ovens, fryers, grills, dishwashing equipment, storage areas, plating up and collection areas, amongst others.
You'll need to set your kitchen up with a logical flow so that your staff can move freely as they need to from area to area without getting in the way of other staff, and so that your production lines work smoothly and efficiently to deliver food on time and properly prepared.
A good set up will also ensure that you're able to maintain strict hygiene standards, with food preparation areas for different foodstuffs such as vegetables, white meat, red meat and so forth kept separate to avoid cross-contamination.
Once you've got an idea on what your layout will be, and what your kitchen needs to be able to cater for in terms of types of dishes, you'll need to consider what equipment you need to ensure you're able to prepare the food types you'll need to, at the quality and efficiency required to make your kitchen thrive.
If your kitchen will be producing grilled, baked and roasted items, you'll require high-quality industrial ovens, flash roasters, grills and bar marking machines that can handle various food types with high volumes of throughput.
To handle your baked goods such as breads, quiches, pizzas, pies, sandwiches, sweet treats and so forth, a conveyor oven is ideal, giving an even finish and high-volume throughput without requiring large amounts of staff input.
Another essential piece of equipment is a griller – this versatile must-have allows you to brown the tops of various items such as baked goods, but also gratinise items such as sausage, bacon, cheese-topped items and so forth, giving food an attractive finish before it goes out.
Grills can also be used as primary cooking devices for items such as fish, steaks, burgers, chicken, sausages, large joints of meat and more – using a high-heat sear function and then a lower, more even temperature to cook the item through, commercial grills give you a range of versatile options to produce high-quality food speedily.
Grills can either be in the form of a conveyor grill, used as described above, or flame grills used to char burgers, steaks and even vegetables. Running at high heat – around 650 degrees Celsius – these grills give a traditional charred appearance and taste to meat.
Another essential piece of equipment, particularly if your kitchen produces roast dinners and other roast meats, is a flash roaster – this allows you to 'flash roast' pre-cooked joints such as hams, beef and pork in under 3 minutes to give that braised finish that makes your dish look attractive.
You can also use bar marking machines to add attractive bar lines to your meat and non-meat items such as rolls or breads.
If you're considering setting up a commercial kitchen and need some advice on cooking equipment, or have an existing kitchen that needs more equipment, contact Frampton Worldwide today on 01354 650569 or sales@framptonworldwide.com.